American Airlines baggage policy has been made for planning your journey in a better way. This air operator was founded more than 90 years ago. Passengers prefer the airline due to its convenient baggage policy. Its policy carries guidelines relating to the allowed and prohibited items in flight as well as baggage fees.
American Airlines Checked Baggage Allowance
The policy for American Airlines baggage allowance for checked items has specific rules that every passenger flying with it has to be aware of. These guidelines mention how much weight can be carried with respect to checked baggage. The weight restrictions depend on various fare classes.
The following is the list of the checked baggage weight along with fare classes of American Airlines:
| | |
| --- | --- |
| American Airlines Class | Weight Limit |
| Economy Class Cabin | 50 pounds |
| Premium Economy Class Cabin | 50 pounds |
| Business Class Cabin | 70 pounds |
| First-Class Cabin | 70 pounds |
The fees applied for carrying a number of bags with American Airlines can vary. As per the American Airlines International baggage fees policy, we have listed below the details of checked baggage allowance with fees:
| | | | |
| --- | --- | --- | --- |
| Category | Fees | Maximum Weight (In lbs) | Maximum Size (In Dimensions) |
| First checked bag | $30 | 50 lbs | 62" |
| Second checked bag | $40 | 50 lbs | 62" |
| Third checked bag | $150 | 50 lbs | 62" |
| Fourth(+) checked bag | $200 | 50 lbs | 62" |
Guidelines for Excess Baggage of American Airlines
Excess baggage carried on American Airlines is subject to strict rules. According to the rules, if a traveler checks a piece of excess luggage, then he or she must pay the American Airlines extra baggage cost. When a traveler flies to Central and South America, Mexico, and the Caribbean, he/she can only bring two extra pieces of luggage, as is mentioned in the rules relating to American Airlines baggage fees in 2020.
Certain guidelines must be considered while traveling with extra luggage on this airline. These guidelines are inclusive of the following:
Excess luggage should weigh no more than 50 pounds. Also, it should measure no more than 62 inches in length.
Passengers are not permitted to carry excess luggage weighing more than 115 pounds.
Any baggage reported to be between 63 and 115 inches in length will be charged with an additional fee, as is added in the American Airlines baggage policy.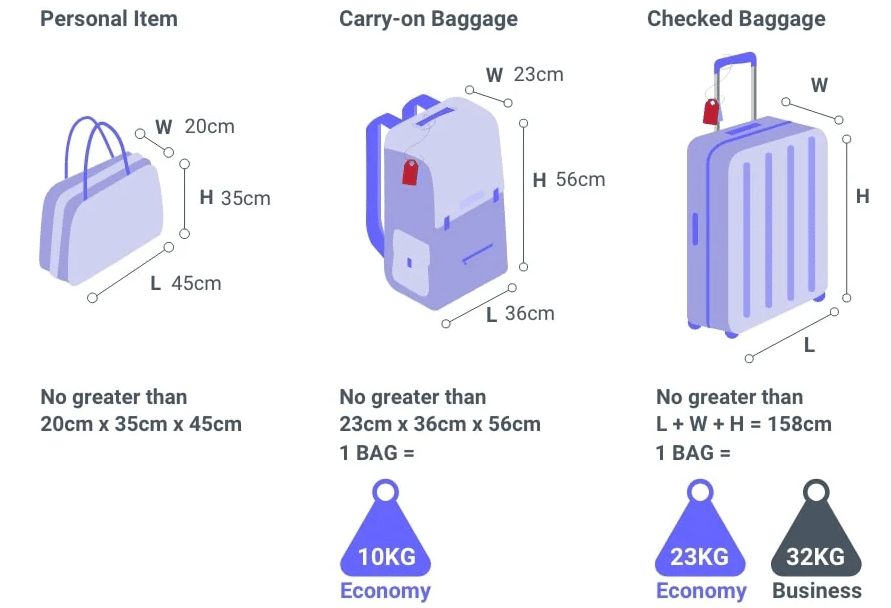 Overweight or Oversized American Airlines Baggage Fees
When taking luggage greater than the size and weight mentioned in baggage policy, American Airlines applies the following rules:
When obstructing the weight limit of 23 kilograms or 50 lbs, the checked luggage is considered overweight.
As per the American Airlines overweight baggage fees, any traveler who carries more than 50 lbs of weight will have to pay an extra charge.
The following table lists the fees applicable for overweight items carried on American Airlines.
| | |
| --- | --- |
| Destination/Route | Dimensions Larger than 62 inches |
| Between the U.S., Puerto Rico, U.S. Virgin Islands, and Canada | $200 |
| Mexico, Caribbean, and Central and South America | $200 |
| South America and Panama | $150 |
| Europe | $150 |
| China, Japan, South Korea, Hong Kong, and Australia | $200 |
American Airlines Security Rules for Carry-on Baggage Policy
There are certain security rules set for American Airlines' carry-on baggage fees policy. This policy contains what items can be carried, considering that they are safe. It also tells what things are not allowed, while traveling with this airline, due to safety reasons.
Flyers traveling from American Airlines are allowed to bring the following items:
Air mattress with built-in pump
Airbrush make-up machine
Alcoholic beverages
Baby carrier
Baby food
Belts, clothes, and shoes
Blankets
Bobby pins
Bottled water
Child car seat
Cigarettes
Coat hangers
Contact lenses
Electronic toothbrush
Extension cord
Life vest
Magnets
Safety pin
Sleeping bag
Liquid can be transported inside the plane for a charge on American Airlines' carry-on luggage. When carrying any liquid, gel, or aerosol item, keep the following in mind:
According to American Airlines baggage policy, passengers traveling out of any U.S. airport may check their carry-on bags and board the plane with certain liquid items. These can include trial-size liquids.
The liquids must contain a maximum weight of 3.4 ounces or less.
All liquids should easily fit in one transparent and lockable storage quart-size (liter-size) bag.
Carrying Infants/Children with American Airlines
Passengers carrying infants or children are requested to follow American Airlines domestic baggage policy. Its guidelines are as mentioned below:
Children aged two and above must have their own seats and pay an adult fee. Under no conditions should a child under the age of five travel alone.
If you are flying with a baby under the age of seven days, then your doctor will need to sign out a traveler medical form before your trip.
The availability of bassinets is on a first-come, first-served basis.
In First/Business cabins, bassinets are not offered.
You must purchase a ticket for your newborn when they fly via their own seat. The infant must either fly via a Federal Aviation Administration (FAA)-approved safety seat or be able to sit straight on the seat without assistance.
American Airlines Pets Policy
Going by the American Airlines baggage allowance policy, the rules for pets are as follows:
On American Airlines flights, you can bring one kennel as a piece of carry-on luggage. This is allowed when:

The pet charge for carry-on luggage is paid by you.
During the trip, your pet remains in the kennel and beneath the seat located next to you.
You are allowed to travel with your pet carrier and one personal item but not with carry-on luggage.
Your carry-on luggage will be replaced with the kennel.
Your pet may be too huge to travel in the cabin. Then American Airlines Cargo will be the only option to carry it.
Sporting and Music Equipment Accepted in American Airlines
American Airlines baggage policy allows its customers to bring specific sports and musical instruments inside the flight. The items which can be taken on board are:
Antlers
Archery equipment
Bicycles
Baseball
Bowling equipment
Camping equipment
Curling equipment
Fencing equipment
Fishing
Golf clubs
Hang gliders
Javelin and pole vault
Oars and paddles
Scuba gear
Parachute
Shooting equipment
Skateboard
Watersports boards
Tennis, badminton, squash balls
Windsurf
Guitar
Tabla
Violin
Drum
Prohibited Items on American Airlines
There are limited items that can be carried inside American Airlines. This airline prohibits its customers from bringing several items while traveling. Especially in the case of American Airlines baggage policy for economy passengers, the rule has to be kept in mind. The list of these prohibited items includes:
Batteries
Cutting instruments
Defense sprays
Drones
Dry ice
Electronic cigarettes (vapor/e-cigarettes)
Explosives
Firearms or ammunition
Flammable liquids or solids
Gasoline-powered tools
Household items
Hoverboards
Lighters and matches
Marijuana
Mobility devices
Personal care items
Pressurized containers/compressed gasses
Recreational/full-body PPE
Self-heating meals
Self-inflating life jackets
Scissors and tools
Smart bags
For making your travel plans easy, we have discussed American Airlines reviews as well. Reading through these reviews can help you decide how good its services are. Click on this post right now to read them.
---
Frequently Asked Questions for American Airlines Baggage Policy
How much is the American Airlines baggage fee?
As per American Airlines baggage fees in 2021, when you are carrying one piece of baggage, the airline would charge you $30. Should you take two pieces of baggage, the charge would get increased to $40. In certain circumstances, you may want to bring three or more pieces of luggage. Then American Airlines will charge you $150.
Can you pay American Airlines baggage fees online?
No, you cannot pay American Airlines baggage fees online. There is no facility available for even prepaying at American Airlines. As of now, for paying baggage and extra baggage fees, you only have the option to pay at the airport.
What is the weight limit for suitcases on American Airlines?
The weight limit for suitcases on American Airlines can vary. The bag's total size should be smaller than 158 centimeters in all sections. The maximum check-in luggage limit for Economy Class travelers is 23 kilograms. The maximum weight permitted for check-in luggage for First and Business Class passengers is 32 kilograms, according to American Airlines baggage weight and fees rules.
What happens if your luggage weighs more than 50 pounds when flying with American Airlines?
In some instances, your luggage may weigh more than 50 pounds or as allowed in the American Airlines baggage allowance policy. You will be required to pay a surcharge. Considering the American Airlines carry-on baggage fees, when your luggage weighs 51 to 70 pounds, you will be fined $100 each way. Baggage between 71 to 100 pounds will cost $200 per way. Transatlantic flights, as well as flights to and from Cuba and Australia, will not allow the carrying of bags weighing more than 71 pounds.
How much baggage can the military check at American Airlines for free?
American soldiers traveling on orders can check up to 5 bags for free, as stated in American Airlines' military baggage policy. Submit your military ID and commands at the check-in counter if you are from an army or military background and then you are able to take up to 100lbs and 126-inch baggage cost-free.