Established in 1932, Egyptair is a leading flag carrier of Egypt. It is headquartered at Cairo International Airport which is also the main hub of this carrier. Currently, it is offering scheduled flights as well as cargo services to over 80 destinations across the Middle East, America, Africa, Europe, and Asia. Besides, it is quite popular for its flexible baggage policy.
The Egyptair baggage policy defines guidelines for travelers to direct them for carrying items of agreeable size, weight, and in the right quantity. Further, it divides these guidelines as per the baggage type.

Egyptair Baggage Types
Egypt Airlines baggage allowance is designed in a way to make travel comfortable irrespective of the type of items carried. It lets travelers bring different luggage on domestic as well as international flights. These can include:
Hand Baggage: Also called cabin or carry-on baggage, it can be brought by the passengers on board and may be available for use during the journey. It is typically kept in the space given underneath the traveler's seat or overhead bin.
Luggage in Hold: Luggage in the hold is also referred to as checked baggage. These are the bags that are carried by the airline in the hold and may remain unavailable for use on the plane. It can be important to note that a passenger cannot bring checked baggage in the cabin. It should be checked online or at the airport before the scheduled departure.
Infant Luggage: The airline can ensure smooth travel to those who have babies or infants. Egyptair baggage allowance for infants can be quite flexible as it can provide extra comfort to travelers. They can carry strollers, diaper bags, or any other similar item on the flight keeping the rules of infant luggage in mind.
Besides these basic baggage types, the following can also be accommodated by this flag carrier of Egypt:
Flying with Pets: Pets such as dogs, cats, rabbits, and so on can be considered in carry-on bags as per the Egyptair baggage policy. Every traveler of this airline can travel with their pets if they comply with the rules of luggage policy. You may need to pay an excess fee if the overall weight exceeds the maximum limit of 23 kg.
Traveling with Musical Instruments and Sports Items: Every passenger can be allowed to carry a small musical instrument within the cabin luggage. It should meet the weight and size rules given in the baggage policy. Additionally, all musical instruments should be packed in hard cases. If you pack them in a soft case, then the airline may not accept it. Egyptair also has some rules for sports items. Even though the equipment related to scuba, archery, fishing, and golf can be considered as checked baggage (free), it should meet the weight and size-related rules as well as be securely packed in suitable cases.
Note: If you have more than one flight included in the trip, then the baggage rules of Egyptair may slightly change. Therefore, you should check the same before taking your flight.

Egyptair Baggage Rules for Checked Bags (Hold Luggage)
Items carried as checked or hold baggage should cater to the needs/conditions mentioned under the policy. Here are the details of the weight and size along with the fee structure:
Weight Limit of Egyptair Checked Baggage
For Domestic Flights: Travelers can be entitled to free baggage allowance on all domestic flights as per the following weight restrictions:
The maximum weight for Business class should be up to 70 lbs or 32 kg.
Egyptair Economy baggage allowance should be 50 lbs or 23 kg.
In both these classes, only 1 piece can be allowed.
For International Flights: Every passenger can be provided with the following free checked baggage on international flights:
For Business class travelers, the maximum weight can be up to 70 lbs/32kg.
Every Economy class passenger can be allowed up to 50 lb/23kg.
In Business and Economy classes, 2 bags can be taken.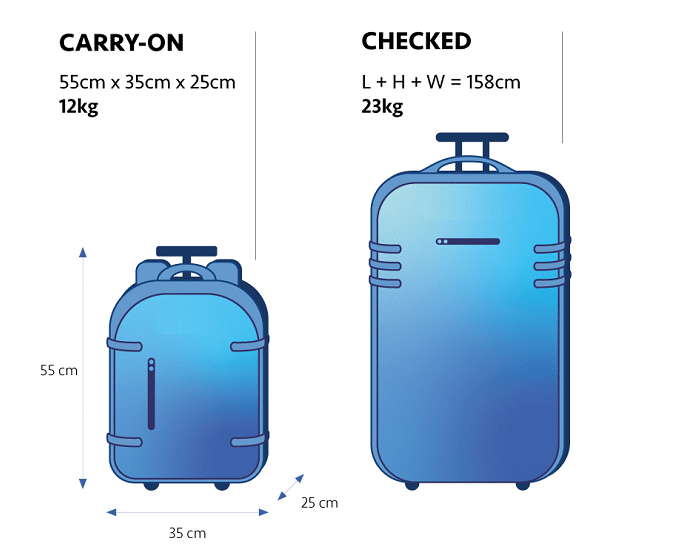 Egyptair Checked Baggage Size
For international flights, the maximum size of each bag should be up to 62 inches or 158 cm for Business as well as Economy class.
In domestic flights, the passengers may be allowed to keep a bag with the linear dimensions of 62 inches or 158 cm in both the travel classes.
Egyptair Checked Baggage Fees
Passengers can carry the bags free of cost if they meet the size and weight rules.
When the bag goes beyond the given weight and size limits, travelers may need to pay the excess baggage fee.
Egyptair excess baggage fees can depend on the class and route chosen.

Egyptair Carry-on Baggage Rules
All EgyptAir passengers can carry one personal item along with one standard bag for free. However, the bag that you are planning to carry onboard should be as per the weight and size dimensions. The detailed information has been given here:
Egyptair Hand Luggage Weight Conditions
Irrespective of the route chosen, you can carry up to 8 kg in the Business as well as Economy class.
Passengers are enabled to get 2 carry-on bags in Business class and 1 bag in Economy class.
Egyptian Airlines Size Restrictions
The carry-on personal or standard bag(s) should fit underneath the front seat or in the space available in the overhead bin. Thus, it should be small enough to be placed in the location.
Egyptair Baggage Fees
Carry-on bags can be carried for free if they are as per the mentioned rules and conditions.
The excess or Egyptair extra baggage costs can be levied when the bags are more than the size and weight limits.

Egyptian Air Baggage Allowance for Infants
Infants can be allowed to have one bag with the maximum weight of up to 10 kg. The size dimensions should not be more than 115 cm. This item can be a stroller, diaper bag, or any other item that is as per the Egyptair baggage policy. In addition to this, the item that you are carrying should be foldable and fit within the given space.

Items Strictly Prohibited on Egyptair
Certain items may be completely restricted on the aircraft of this air operator. The following items cannot be added to checked as well as carry-on baggage in any conditions, as per the IATA Dangerous Goods Regulations and the General Conditions of Carriage:
Corrosives
Explosives
Fireworks & flares
Mobility devices
Radioactive materials
Compressed gases
Suitcases/bags with alarm devices
Items that are powered by the lithium batteries
For the Egyptair flights from or to the UAE and Saudi Arabia, passengers may not be enabled to carry certain medicines such as Rovamesan, lebraks, and Tramadol because they are listed as drugs. You may connect with the customer support of this leading Egyptian carrier to get the detailed information about the same.
The Egyptair baggage policy can be quite easy to understand and flexible in certain cases. Being a passenger-centric airline, this low-cost carrier of Egypt ensures the smoothest journey for its travelers in every possible way. However, every flyer can be advised to know the baggage rules listed to avoid unnecessary hassles later. When a traveler is familiar with every aspect of the baggage regulations, he/she can make the journey with EgyptAir smooth and more enjoyable.
You can also make yourself open to other policies of several carriers like Spirit Airlines Baggage Policy.