Delta Airlines reviews disclose that it is amongst the most renowned and prominent airlines in the United States. Over a span of a year, this airline has seen tremendous traffic of approx 200 million travelers worldwide. You must know everything about this Delta Airline if you are planning for your next trip with it. We have come up with the latest and updated information about its tickets, amenities, customer service, and a lot more to give you a review of Delta Airlines.
In the reviews covered here, you can learn about Delta Airlines' price affordability as well. You can find out the quality of facilities available inside each cabin class of the airline. Apart from this, we will share the safety levels of Delta Airlines and its customer ratings.
Content Summary of Delta Airlines Reviews
Flying with Delta Airlines, reviews of the passengers have been recorded about the following:
Knowing Honest Delta Airlines Flight Reviews
As per the reviews of Delta Airlines, it provides cost-friendly flying services. The airline's baggage policy is agreeable to most visitors. Also, it provides a convenient cancellation policy when sudden changes are observed in plans.
Focusing more on Delta Airlines International reviews, let us know further about the opinions of travelers about its services.
1. Delta Airlines Ticketing Options
* Basic Economy Fare
Delta Airlines provides you with a basic economical ticket like most U.S. airlines that aim to compete with cheap carrier companies. As per the Delta Airline reviews in 2017, this flight has been providing comfortable seats and space to put your baggage. However, you cannot pick your choice of a seat at check-in if you are going for Basic Tickets, suggests the reviews. Thus, you may not have an option to sit with your travel companions during your journey.
Note: Airline reviews for Delta Airlines suggest that tickets at Basic Economy cannot be altered or upgraded.
* Standard Economy Fare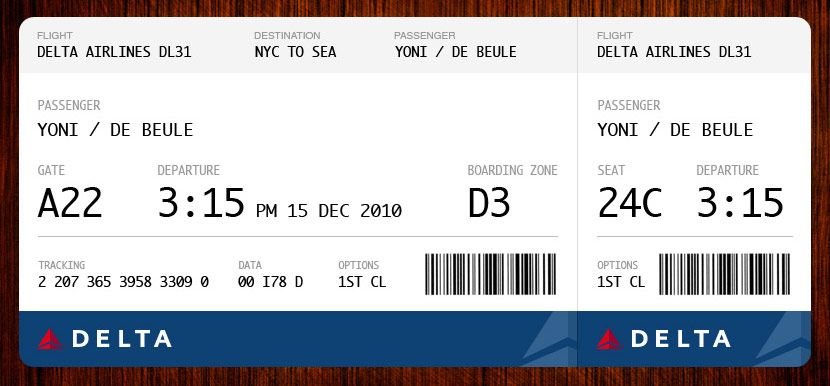 * Comfort+
Comfort+ is Delta's favourite economic seat with additional legroom and specialized opening bag space, as is reflected in the airline's reviews. Additionally, this seating has the same advantages as the regular seats have. The prices of these tickets are generally on the higher side. As stated in the Delta Airlines reviews in 2016, these seats have been offering great space with fantastic movie displays. Along with this, travelers love the quality food, earbuds, and large baggage compartments provided.
* Premium Select
* Delta First
* Delta One
2. Delta Airlines Baggage Policy
Reviews by the travelers of Delta Airlines explain that its baggage facility is agreeable. There is an availability of carry-on luggage for the visitors. Also, policies have been made for baggage with respect to travelers who have infants. Based on Delta Airlines reviews, we have explained more about the Delta Airline baggage policy facilities of this airline in the United States as follows: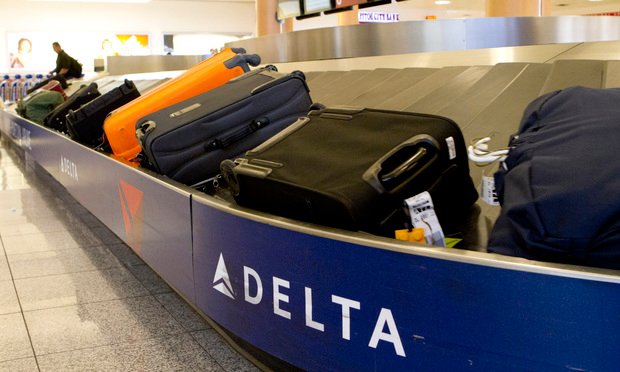 * Carry-on Luggage Allowance
Flying with Delta Airlines, reviews of visitors bring to light that all cabins are entitled to one separate complimentary item and one regular carry-on bag inside the flight. Delta's reviews explain that the quantity of the personal item isn't specified on Delta's website. This can be problematic for the flyers. However, certain reviews reveal that the carry-on bag weight should be no larger than 22′′ x 14′′ x 9′′.
* Carry-on Policy for Infants in Laps
On Delta, Any seat or bassinet that a baby may occupy on an adult's lap is accepted as a part of the adult's hand baggage allowance. If a seat has been bought, then infants are not entitled to any hand baggage allotment. The Delta Airlines ratings and reviews by certain travelers with babies unfold that this policy is of much use. Also, for some visitors, the availability of this policy is the reason why they prefer flying with Delta Airlines.
3. Refreshments Offered by Delta Airlines
Considering numerous airline reviews for Delta Airlines, travelers can enjoy complimentary snacks and several refreshing drinks. Among all, Starbucks coffee is what they enjoy the most. The reviews also suggest that you can avail yourself of bistro-style food on the flight. The information gathered from these reviews suggests that sandwiches, platters, beer, wine, etc., can be ordered on flights. However, supplementary meals and beverages may not be offered.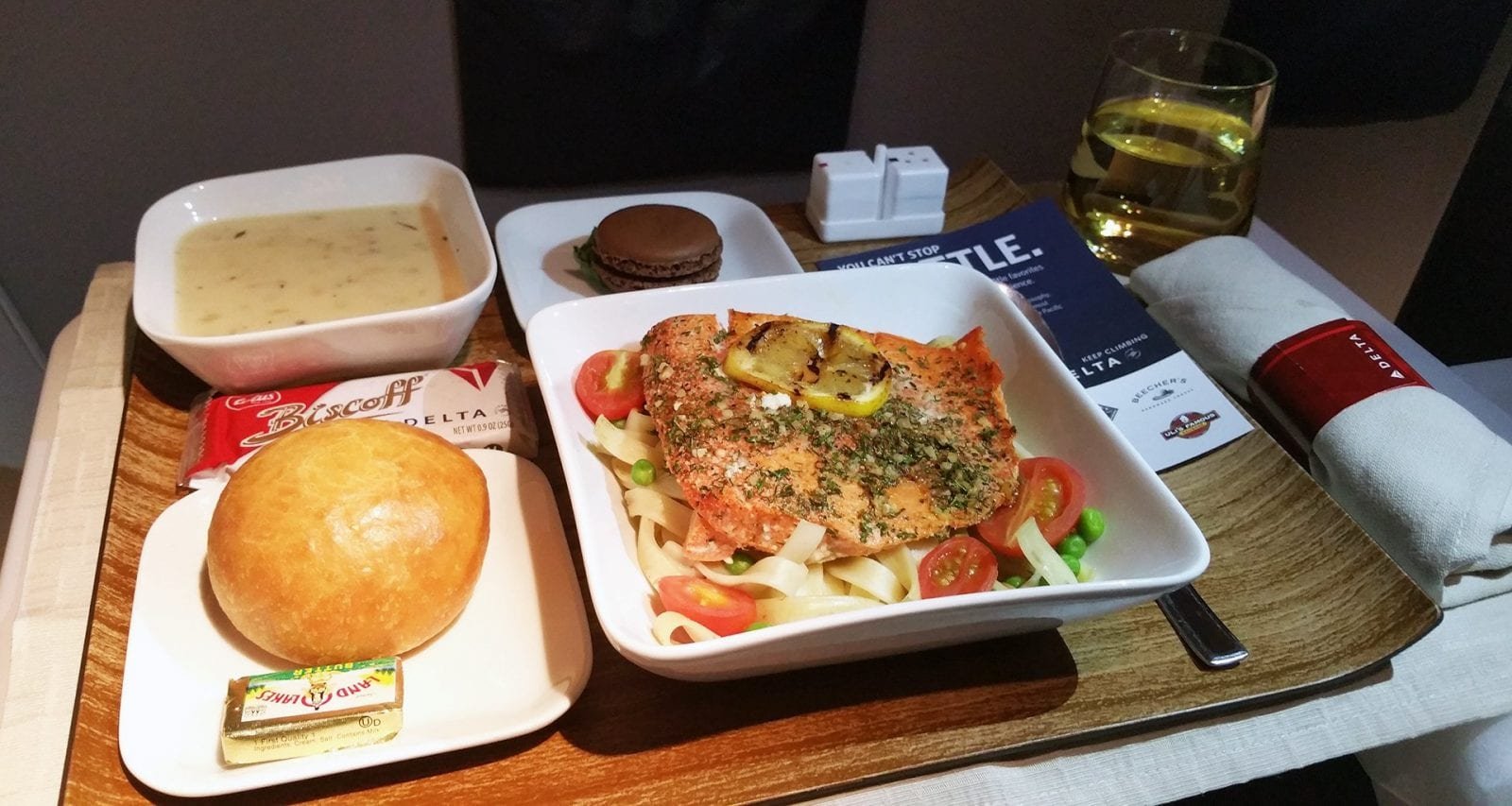 Travelers in Delta Premium Select can be given a more extensive meal with salad and bread. In contrast, the highly fortunate ones, concerning Delta One food reviews, may receive pre-disposal bottled water, a wide choice of drinks, and gourmet dishes. The dishes can be served with custom-tailed airline flatware from partners such as Chef Linton Hopkins and Union Square Hospitality Group.
Apart from all these food items, if any visitor has diabetes, he/she can enjoy 17 different kinds of meals that are offered on Delta One, First-Class, and all other economy class seating, reveal the reviews.
4. Cancellation Policy of Delta Airlines
If you have planned to travel with Delta Airlines but unfortunately had to cancel your flight, then here are some cancellation policy reviews that you should know.
Delta Airlines has formed a 24-hour cancellation policy in light of flyers' demands and conditions. It gives travelers additional freedom and benefits during the management of their reservations. This airline's reviews mention that the flyers are satisfied with the policy. Travelers can cancel a flight scheduled on Delta Airlines within 24 hours of complying with its cancellation policies. When the booking is made another week or ahead of the given schedule of the flight, the airline should offer full ticket reimbursement.
As stated in the Delta Airlines reviews in 2019, if the travelers cancel their ticket within hours of travel and the airline books their flight within one week, then the airlines will charge a $50-200 penalty. Certain travelers have not been satisfied with this, considering the emergency due to which the cancellation may be made.
5. Delta Seats & Legroom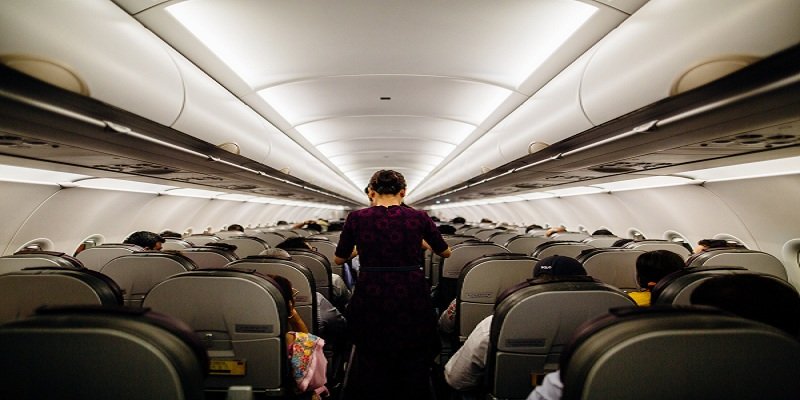 As per Delta Airlines reviews, this air operator offers more than 25 different seating options for various travelers around the globe. These seats have been equipped with an excellent comfort level and extra legroom space for people of all age groups, explain the airline's reviews.
6. Inflight Amenities
Various inflight amenities are offered by different booking classes of Delta Airlines. Free movies, extra space, greater comfort, pillows, blankets, etc., are among the best amenities of the airlines. Based on Delta Airlines reviews, the number of amenities can increase as per the price of the flight tickets.
* Main Cabin
Passengers can get free access to Delta Studio with all the movies and TV shows. They can be played either on a smartphone or the seat-back monitor.
On international routes, headphones are complimentary. While, on domestic flights, headphones are available to order.
Snacks are complimentary on most international flights, suggests the reviews.
Soft beverages, including Starbucks coffee, are provided as a courtesy. This is what the passengers are really fond of as per the airline's reviews.
Wi-Fi can be purchased inside the flight.
* Delta Comfort+
As has been found in the Delta Airlines Comfort Plus reviews, travelers can get 4" extra spacious legroom for comfortable seating posture.
Additional luggage space is available above the seats.
Passengers can travel faster by SkyPriority Boarding available with Delta Comfort+.
Facilities such as amenity kits, pillows, and blankets for a long journey are also included, as we found in the reviews of the airline.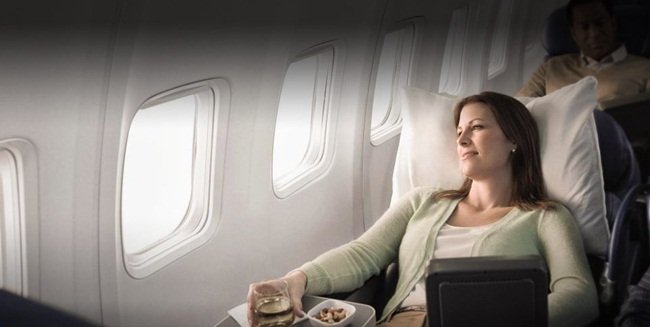 * First- Class
Compared to the Main Cabin having a 5.4′′ recline, the Premium Cabin has a larger seat and 8′′ more legroom.
For the passenger, there is a specialized flight attendant.
Wi-Fi and power connections can be purchased in First-Class Booking.
A kit of amenities is included inside the flight.
Delta Airlines reviews explain that blankets and pillows are given owing to long hours of travel.
Headphones with an ergonomic design are provided.
Travelers are provided with fine dining options for a variety of meals.
Soft drinks and alcoholic beverages are provided free of charge.
Delta Studio access to movies and games is also provided, as is known by the reviews.
* Premium Select
Broader seats have greater legroom, and customizable foot and leg rests are available in these bookings, as is reported on the Delta Airlines Premium Select reviews.
For the crew, there is a designated flight attendant.
On your flat-screen monitor, you will have access to Delta Studio that includes movies, video games, and TV.
The reviews of Delta unfold that Tumi's Amenity Box includes Malin+Goetz cosmetic products at Premium Select Bookings.
Comforters and pillows are provided for long-haul flights.
Upscale eating is another amenity that has been mentioned as available in the flight's reviews.
Dinner, beverages, and alcoholic drinks are available for free to every passenger of Delta Airlines.
* Delta One
This airline's Delta One reviews bring to light that there is a heavenly bedding facility available in flight.
Duvet and pillow with pillowcase are offered to its passengers.
For spending time alone, Delta One Suites include a packed door facility. Its reviews explain that this inflight amenity is best for ultimate privacy.
The Tumi Amenity Bundle at Delta One includes Kiehl's Lip Balm and is best for most flyers.
7. Delta Airlines Frequent Flyer Program
SkyMiles is the loyalty program of Delta Airlines in which users are prized with miles anytime they travel with the airline or one of its SkyTeam Alliance partners. Travelers may receive points for ordinary expenditures like shopping and dining out, as well as on purchasing via select credit cards.
As revealed in many Delta Airlines reviews, the frequent fliers may earn Medallion membership by working their way through the club tiers. The four Medallion categories are Silver, Gold, Platinum, and Diamond. Diamond, as one might expect, is the highest level available. It has been giving the most advantages such as improvements and priority boarding.
8. Safety Performance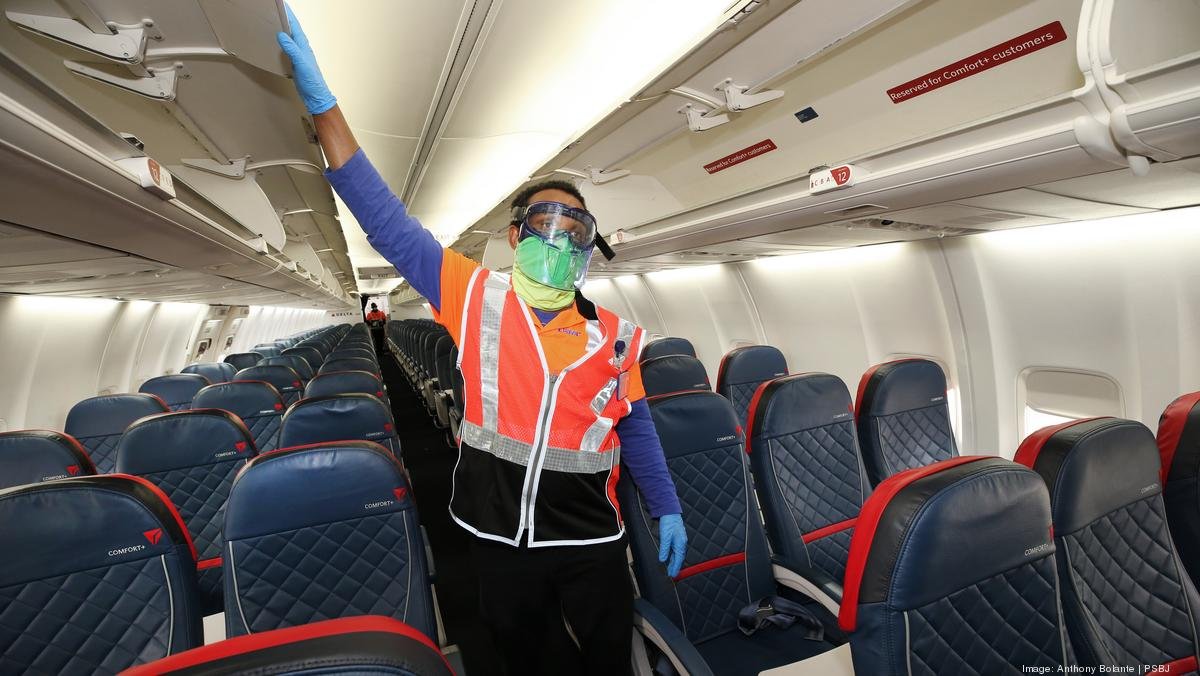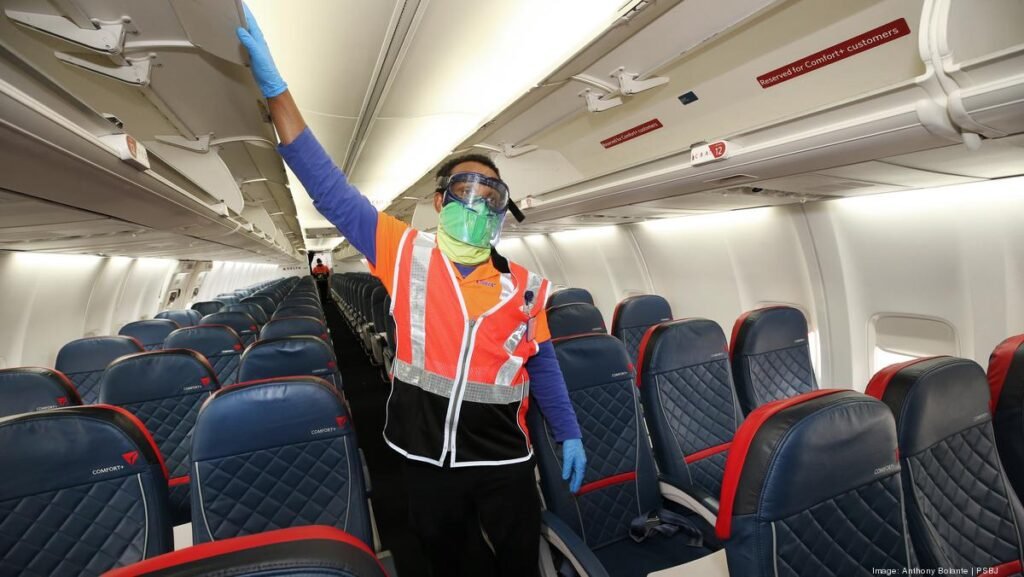 Delta Airlines reviews for safety suggest that the security levels of it are excellent. This is based on the data from the International Civil Aviation Organization and municipal and crash reports. It also considers whether or not the airline has received an IATA Operational Safety Audit Certification.
9. Customer Satisfaction
Coming to the main motive of customer satisfaction, Delta Airlines is well-known in the United States. It has won accolades and received acclaim from consumers for its professionalism and timeliness. Delta, likewise, had the lowest amount of cancellations out of the ten major U.S. carriers. Delta only canceled 0.1% of its flights, with its code-sharing partners bringing the total average down to 0.3%. This suggests how satisfied the customers of this airline are.
From luxurious dining to ample amenities, travelers have admired Delta Airlines. They also stated that they had the best onboarding experience with supportive staff and crew members at these airlines.
10. Delta Airlines Reviews and Ratings
Delta's positive customer feedback and several awards are proof that it has nailed its business strategy. It was recently awarded one of Fortune's top 50 most regarded companies and the most admired airline for the seventh consecutive year.
According to Delta Airlines passenger reviews, it deserves a 5-star rating mainly for its seats and healthy meals. Others have loved Delta Airlines for its overall cleanliness. When it comes to legroom facilities, customers have rated 3 stars out of 5, and if we look into the onboarding experience of many customers, the ratings go 4.2 out of 5. Going by customer experience, this airline ranks among the best ones due to its check-in and boarding facilities along with its prices.
Conclusion
Delta Airlines deserves an appreciation for its dedication to customer service and happiness. Its customer reviews say everything about the professionalism of its employees. It is a cost-friendly airline with trustworthy services. Also, Delta's regulations on fare inclusions and cancellations changes are quite clear which is the most impressive.
After knowing this information, how are Delta Airlines reviews as per you? Also, tell us how likely you will prefer this airline.
Should you be preferring this airline in the future, keep in mind Delta Airlines baggage policy. To know about this policy, please click here.
---
*
Delta Airlines Frequently Asked Questions
Q.1 Is Delta a good airline?
Going by Delta Airlines reviews by different travelers across the globe, it is considered as a good airline. Delta is rewarded as a 3-star airline due to its excellent staff and customer service. Apart from these features, seats, food quality, in-flight entertainment services, and the amenities inside the aircraft are also found good by its flyers.
Q.2 Can I bring snacks on the Delta flight?
Perishable products, both non-edible and edible, are permitted on Delta aircraft as carry-on luggage. However, the products should not violate the landing country's agricultural laws. Fresh or ready meals, particularly fruits and vegetables, are examples of perishable products that can be taken inside the flight, as per Delta Airlines flight reviews.
Q.3 Which airline is safest to fly during COVID-19?
Delta Airlines is the safest while flying during the COVID-19 pandemic. Looking at the Delta Airlines reviews for safety, it can be said that it maintains the utmost guidelines for COVID-19. Masks, sanitizers, shield masks, PPE kits, etc., are provided to the customers while boarding the aircraft. Not only are the passengers assured of protective measures but the staff of the airline also ensures that the kiosks, windows, and handles are kept well-sanitized.
Q.4 Do Delta flight prices go down?
Due to some factors, Delta Airlines may lower its prices but you can still travel cheap with it. You can use the VentureOne® Rewards Credit Card from Capital One. This card has no yearly fee and offers 20,000 extra miles after purchasing $500 in the first three months. As seen in Delta Airlines International reviews, a flyer can redeem their miles to settle off all or a portion of their current amount when they are using their card for international purchases. Credit Card from Capital One® Venture® Points – Venture One's "Big Brother" card, provides 60,000 miles after spending $3,000 on transactions in the first three months. It can help you save a lot on the fare tickets.