China Airlines is one of the well-known air carriers of Taiwan. China Airlines' baggage policy has rules for carrying bags onboard. These rules can be related to checked luggage, carry-on items, excess baggage, and more. It can be crucial to follow the regulations of the policy in order to avoid additional fees or other action on luggage. By knowing the rules of this policy, traveling around China can be hassle-free with cheaper baggage costs.

China Airlines Baggage Allowance for Checked Items
Passengers from all around the world may carry up to two complimentary checked bags on board with China Airlines. This air carrier may also enable them to bring their bags according to the weight and piece system. The China Airlines baggage allowance per person, as per this concept, may be different on various routes. The number of bags and the size dimensions of the luggage can also vary upon the cabin class.
| | | | | |
| --- | --- | --- | --- | --- |
| Cabin Class | Weight System (kg) | Weight per Piece (kg) | Size Dimensions (cm) | Number of Bags |
| Economy Class | 30 | 23 | 273 | 2 |
| Premium Economy Class | 35 | 28 | 158 | 2 |
| Business Class | 40 | 32 | 158 | 2 |
Note: China Airlines checked baggage policy may approve its flyers to take bags based on the following weight and size restrictions:
Maximum Weight Limit: 40 kilograms
Maximum Size Dimensions: 158 centimeters
Maximum Combined Dimensions: 273 centimeters
Checked Baggage Allowance: 2 pieces

China Airlines Excess Baggage Fees Policy
China Airlines may impose excess baggage fees on taking items more than required. To determine excess baggage, it has made restrictions on the basis of weight, size, and the number of bags the passengers carry.
Owing to the allotted limit, China Airlines baggage costs excess fees depending on zones such as:
Zone 1: Taiwan, China
Zone 2: Southeast Asia, Mainland China, and Hong Kong
Zone 3: Northeast Asia
Zone 4: South Asia or India, Oceania, Australia, and New Zealand
Zone 5: Europe, United Kingdom, Austria, Netherland, Italy, and Germany
Note: In these zones or routes, baggage allowance can vary as per the weight concept.
The below-mentioned zones or routes may apply the piece concept:
Zone 6: The USA or Canada
Zone 7: South and Central America
Excess Baggage Fees in USD
| | | | | | | | |
| --- | --- | --- | --- | --- | --- | --- | --- |
| Between | Zone 1 | Zone 2 | Zone 3 | Zone 4 | Zone 5 | Zone 6 | Zone 7 |
| Zone 1 | – | 5-6 | 5-6 | 17-20 | 34-40 | 98-115 | 170 |
| Zone 2 | 5-6 | 10-12 | 10-12 | 22-26 | 39-46 | 98-115 | 180 |
| Zone 3 | 5-6 | 10-12 | 10-12 | 22-26 | 39-46 | 111-130 | 185 |
| Zone 4 | 17-20 | 22-26 | 22-26 | 34-40 | 51-60 | 123-145 | 200 |
| Zone 5 | 34-40 | 39-46 | 39-46 | 51-60 | – | 140-165 | 220 |
| Zone 6 | 98-115 | 98-115 | 111-130 | 123-145 | 140-165 | – | – |
| Zone 7 | 170 | 180 | 185 | 200 | 220 | – | – |
| Guam | 43-50 | 47-55 | 51-60 | 68-80 | 85-100 | 85-100 | – |
Note: Excess baggage fees of China Airlines can be approximate rates imposed while traveling to different zones/routes. Apart from the above-listed seven zones, one more destination of Guam has distinct charges applied to it.

China Airlines Hand Baggage Allowance
Hand baggage allowance can refer to carry-on luggage carried by the customers of China Airlines. This operator may permit them to bring one personal item along with carry-on bags. Every customer pertaining to the regulations of the China Airlines baggage policy of carry-ons can bring free luggage. It may include personal items, free cabin baggage, and some special items onboard. The flyers can take these items according to the allotted restrictions on the cabin class chosen.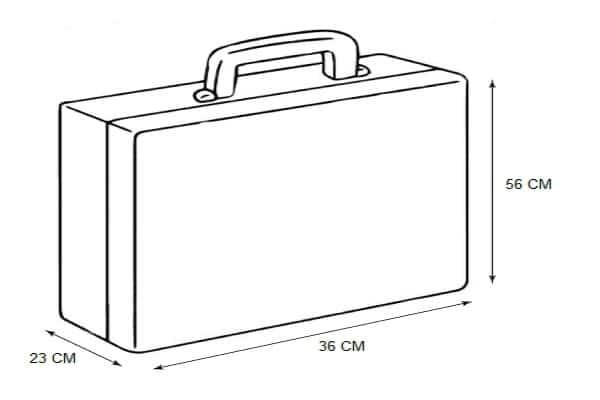 Only cabin luggage that can be securely kept beneath your seat/overhead bin can be permitted in the aircraft cabin. Cabin bags should be 56 x 36 x 23 cm in dimensions and 7 kilograms in weight for all cabin classes.
Every passenger may get a free cabin luggage allotment according to his/her travel class under the China Airlines carry-on baggage policy:
Business Class: One bag of carry-on and one garment suitcase
Economy Class: One piece of cabin baggage

Allowed Items on China Airlines
China Airlines' international baggage policy may permit visitors to bring only specific items onboard. The reason behind this can be the safety of the passengers/crew. Allowed items may not vary as per the cabin class. That means the list of items to be brought can apply to every cabin class on China Airlines.
The China Airlines check-in baggage policy approves the following to be taken by its passengers:
| | | | | | |
| --- | --- | --- | --- | --- | --- |
| Lady purse | Handbag | Baby car seat | Small camera | A pair of binoculars | Tablet |
| Baby food | Reading material | Umbrella | Duty-free items | Laptop | Infants' napkins |
| Diaper bag | Baby stroller | Medical/assistive devices | Crutches | Walking stick | Medicines |
| Baby bassinet | Mobile Phones | Shoes | Clothes | Headphones | |
Note: Items that do not fit past the airport's size gadget or surpass the China Airlines baggage carry-on allowance limit may be checked. In addition, relevant luggage fees can be required when the size/weight of such items reaches more than 7 kilograms.

China Airlines Pet Baggage Policy
China Airlines' domestic baggage allowance may approve pets to be transported with passengers. They can either travel in the cargo hold or cabin area. Only guide dogs or assistive pets may fly with their companion in the cabin seat. Other than guide dogs, all the pets may fly as checked luggage in the passenger cabin.
The other rules that need to be obeyed by the flyers of the China Airlines Economy, Premium Economy baggage allowance are:
Domesticated dogs and cats may be approved by the airline with a disabled passenger.
Only a guide dog can be permitted to a single flyer.
The transportation of snub dogs and cats can be subjected to special conditions approved by the airline.
China Airlines check-in baggage allowance may not permit fighting dogs in the cargo or cabin class.
Puppies and kittens who are less than 10 weeks old cannot be accepted.
All pets should fly in their containers or crates.
Pets and their crates can be charged with China Airlines extra baggage fees on the basis of their weight and size.

China Airlines Infant Baggage Policy
The China Airlines baggage policy for infants can permit the passengers to fly with their little ones. However, it should be noted that this carrier cannot approve mothers and infants to travel till 14 days post-delivery. Infants who are more than 14 days old can only travel with this operator.
Other regulations charged on bringing infants, as per the China Airlines baggage allowance on an international flight, are listed below:
Only a single adult can hold one infant on his/her lap on China Airlines.
When you are flying with two babies, one of them should be seated on the safety seat purchased by the flyer.
China Airlines may offer you wall-mounted bassinets on informing the carrier.
Because of the shortage of baby bassinets, the airline must be informed about the infants.
Baby bassinets may be served on a first-come first-served basis.
An infant with a ticket can only be entitled to a complimentary China Airlines infant baggage allowance.
10 kg of checked baggage and one additional bag can be approved with a single infant.

Sports/Musical Instruments to transport with China Airlines
With China Airlines Economy baggage allowance, as well as other cabin classes, passengers may be able to carry sports and music items. The items to be transported onboard should be within 23 kilograms. Their sizes should not surpass 162 inches.
Note: Golf clubs and windsurfing equipment can be charged the China Airlines baggage fees.
| | | |
| --- | --- | --- |
| Windsurfing equipment | Kayaks | Golfing equipment |
| Ski equipment | Snowboarding equipment | Archery equipment |
| Bicycle | Parachute | Hockey equipment |
| Fishing equipment | Sky gear | Tabla |
| Piano | Violin | Guitar |
| Drums | Cell bass | Drumsticks |

Prohibited Items at China Airlines
China Airlines' baggage policy comes with rules that may not permit the transportation of certain items on flights. These items may be considered prohibited since they can be dangerous. The dangerous objects may be pointed ones, poisonous, or be explosive. Carrying them inside the flight may cause fire or injury in the aircraft. Some of these may include:
Chemicals
Insecticides
Corrosive substances
Pesticides
Firearms
Odorous objects
Weapons
Knives
Scissors
Lithium batteries
Magnetic materials
Radioactive materials
Live plants
Bringing limited and safe items on China Airlines can help both the staff and passengers to smoothly board the plane. Hence, obeying the rules of this policy should be done before traveling with China Airlines.
Readers might also be interested to know what other airlines' baggage policies cover. To know about Wizz Air baggage policy, you may click here.
FAQs of China Airlines Baggage Policy
What if my baggage gets lost or delayed at China Airlines?
Concerning the China Airlines lost baggage policy, on reporting, the carrier can trace the items. On finding the lost items, the airline can contact the passenger within 21 days of the report. You may need to fill the Baggage Accident Report form or contact the concerned assistance airport office.
Can I board the aircraft with my infant on China Airlines?
As per the China Airlines baggage policy international and domestic routes, you can board a flight with your infant. Only 1 infant can be allowed to fly per passenger. The infant has to travel with a ticket if it is more than 2 years old.
What are the overweight and oversized baggage fees on China Airlines?
China Airlines can charge extra fees if any passenger brings overweight/oversized items onboard. China Airlines baggage overweight fees can range from USD 80 to USD 100. The oversized fees of the baggage can be from USD 120-150.
Is there any China Airlines student baggage allowance?
There may be no information on China Airlines student baggage allowance or free baggage relating to the same. You may contact the helpline for accurate information on free baggage allowance for students as flyers on China Airlines.