Qatar Airways allows pets to travel in the cabin and as checked baggage on most flights. However, certain breeds of dogs and snub-nosed animals are not accepted for travel. Pets must also meet health and vaccination requirements set by the destination country.
What is Qatar Airways Pet Policy?
Qatar Airways Pet policy ensures an animal-friendly experience for furry companions. The airline accepts domesticated cats, dogs, birds, and other pets as checked luggage as well as cabin luggage. Passengers must make a note of the following guidelines –
Reach out to Airways for all pet travel requirements. 
Or Notify Qatar Airways at least 48 hours before the scheduled flight departure of the requirements to avoid any inconsistencies or delays.
Provide water and food in the pet container.
The health certificates, travel documents, and other requirements must be met.
Make sure that the pet container complies with the IATA guidelines i.e is lockable, adequately ventilated with holes, and spacious.
The pet must stay calm on the aircraft and not block the Aisle section or other areas on the Aircraft.
Larger dogs/ animals must stay harnessed and seated by the passengers' feet.
Note: As per Qatar Airways pet guidelines, they can refuse travel for a pet with a small container.
What Is the In-Cabin Qatar Airways Pet Policy?
Pets are allowed to travel in the cabin, but limited certain breeds and travel exceptions such as –
Allowed Pets
The Airline allows 1 Falcon per passenger per booking.
A total of 6 falcons are permitted within the Economy cabin of one aircraft.
Note – Notify Qatar Airways 48 hours before departure to book in-cabin travel for pets.
Pet Exceptions
With new guidelines, one service animal (SVAN) is allowed on QR-operated flights to aid passengers with disabilities. (In some locations)
Maximum 2 trained service dogs are allowed per passenger to guide passengers with disabilities.
Notify Qatar Airways 48 hours before departure regarding the arrival of service dogs or psychiatric dogs.
| | |
| --- | --- |
| Locations | Check-in timings for Service Dogs: |
| For other locations | 2 hours before the scheduled departure. |
| For the US | 3 hours before the scheduled departure. |
Pet Restrictions
Domestic dogs and cats are not permitted inside cabins
Falcons are not allowed on routes to/from Tunis.
Note: Contact the call center to understand the cabin pet policy limitations for your itinerary. 
How to Travel with Pets as Checked Baggage?
Qatar Airways allows domesticated pets like cats and dogs as checked baggage if they meet the required pet health and other travel itinerary documentation. If the checked baggage limit exceeds, pets would be booked under the cargo travel.
Pets Allowed – The following breeds are allowed to travel under the baggage hold.
Animals allowed in the checked baggage include Livestock, Tropical fish, small mammals, birds, dogs, and cats.
Service dogs are allowed as complimentary checked baggage.
If a falcon is transported as a piece of checked baggage, the Qatar Airways checked baggage fee may apply. 
Pets Restrictions – As per Qatar airways pet policy, certain restrictions apply for pets to travel under the baggage hold.
Animals – Rabbits and rodents like marmots, mice, and rats are not permitted as checked baggage but as Air cargo.
Route – Flights to South Africa, the United Kingdom, Australia, and Hong Kong do not allow cats and dogs as checked baggage.
Temperature – Pets are not permitted if the travel destination is lower than 45°F (7.2°C) and higher than 85°F (29.4°C). For temperatures below 45°F (7.2°C), Pets shall receive acceptance after an Acclimation certificate is submitted.
Pet Carrier Requirements – Qatar Airways specifies pet carrier guidelines for pets. Make sure to provide a proper travel container with adequate ventilation and heavy build. All pet carriers must be as per the IATA regulations. Some of the specified requirements include:
| | |
| --- | --- |
| Requirements | Guidelines |
| Maximum size permitted | 40 lengths, 25 breadth, and 23 heights in linear cm  |
| Total weight permitted (Including pet kennel) | 32 kgs |
| In the case of Multiple pets | 2 adult pets are allowed with weights up to 14 kg. |
| Kennel or Travel container guidelines | Feeding containers must have space to be filled from outside without opening. The size of the container must allow the pet to stand and lie down in a normal stance.  |
| Pet Food | Make sure food and water must be present at all times inside the container. Refilling of water bottles and food is not permitted. |
What Is the Qatar Airways Cargo Pet Policy?
Qatar Airways allows animals that are not accepted in the passenger cabin or are too large to travel as checked baggage as Air Cargo. The passengers must abide by the following recommendations to ensure a safe journey for the pets as Cargo. Qatar Airways Pet policy allows animals to fly as Air cargo if: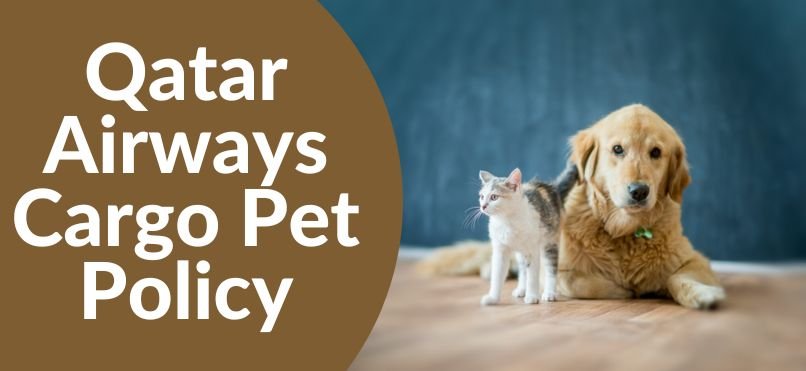 The Qatar airways cargo price per kg exceeds 165 lbs (75 kg) and the dimension of the pet carrier goes over 300 cm.
Pet flying unaccompanied.
Pets who are not permitted to fly as checked luggage or in a cabin. 
Pets Allowed – Cats, dogs, livestock, horses, and other animals as per the Qatar Pet policy cargo requirements can fly as Air Cargo.
Guidelines for Air Cargo – The following conditions will apply for pets to be transported as cargo.
The Qatar airways pet travel associates check whether the pet complies with the airport regulations and the regional laws of the destination of the itinerary.
Contact the Qatar Airways office for confirmation of animals as supplementary luggage.
Only routes operated by Qatar Airways can take animals as Air Cargo.
What Are the Breed Restrictions in Qatar Airways?
Qatar Airways do not allow certain breeds of animals due to higher health risk like heatstroke. Make sure to check the list below as the following breeds are restricted to be transported inside the cabin, baggage hold, or as cargo.
Cats
Dogs
Exotic
Shirazi
Persian
Affenpinscher
Bichon Frise
Pug (all breeds)
American Pit Bull Terrier
Bull Mastiff (English Mastiff)Cane Corso
American Staffordshire Bull Terrier
Brussels Griffon
Valley Terrier
Neapolitan Mastiff
Dogue de Bordeaux (French Mastiff)
Greyhound dogs except for pets
Shar Pei
Boston Terrier
Boxer
Shih Tzu
Valley Terrier
What Are the Other Restrictions for Qatar Airways Pet Policy?
Qatar Airways imposes the following guidelines related to age and health restrictions. Following animals are not permitted to travel in the aircraft.
Animals younger than 12 weeks.
Animals who are weak/ fragile.
Female animals with younglings. However, They can travel with a veterinary certificate whether the mother and the young are healthy for air travel.
Female dogs and cats who are more than six weeks pregnant. But, if a Veterinary health certificate states no risk on birth due to air travel, then they are deemed as fit to travel.
What Are the Documents Required to Travel With a Pet on Qatar Airways?
Qatar Airways have issued a form to initiate pet travel with the Airways. Make sure to provide correct and updated information for an easy itinerary process. In addition –
Present original travel documents complying with the destination country guidelines.
Check-in early to inspect the pet travel area. 
Pay the required pet fee at the ticket counter.
Documents Required: Passengers who would be arranging the pet travel would be asked to fill out the form. The following information must be provided in the form –
Dimensions of container (length x width x height)
Documents for Service Animal SVAN (If present)
Pet health certificate by a licensed veterinarian issued within the last 10 days of the travel date
Breed of the pet
Weight of container.
Weight of the pet.
Besides following, documents must be submitted at the time of check-in – 
Health certificate
Vaccine certificate issued no more than 10 days before the scheduled departure
Entry permit for pets to the destination country.
How to Book a Pet Reservation on Qatar Airways?
Qatar Airways permits passengers to book travel with their pets when they meet the health and carrier requirements. Here are some of the key ways to book via Qatar Airways:
Book a Pet Reservation via Website
Follow these guidelines to book pet travel with Qatar Airways:
Visit the Qatar Airways website and navigate to the Manage Booking section.
Fill in the booking details to retrieve the reservation.
Choose the option: "Traveling with a pet".
Click on "Submit a request".
Complete the on-screen instructions and pay the required fee at the checkout page.
The Airways undertake the request and conduct the necessary steps before departure.
By Call Center,
Qatar Airways pets travel department offers assistance to the passengers who need to accompany pets on their travel.
Call the Qatar Airlines pet travel phone number.
Ask the airline's executive to book your pet's travel.
Provide the booking reference and last name to find the booking details of your future itinerary.
Share the details like pet breed, type, condition, health details, etc. to confirm the booking with a pet.
Pay the required fee over the phone.
You will be notified of the confirmation via email.
Note – You must request the Qatar Airways pet travel up to 24 hours before the scheduled departure.
Query via Live chat
Livechat is a new facility offered by Qatar Airways. Keep information related to pet health and travel documents available.
Click on Qatar Airways' official website.
Scroll down to find the "Live chat" option at the bottom.
Choose the language. An executive is allotted to address the queries.
Share the travel booking details and the information on the pet, its breed, and the health certificate.
The executive confirms the booking details and updates the pet information as required.
Post Query on Social media Handles
Qatar Airways has various social media platforms to assist flyers with queries related to flight booking and travel information. Here are some of the platforms on which Qatar Airways is active.
Hi Ibrahim. We've responded to your DM. Thanks.

— Qatar Airways Support (@qrsupport) June 19, 2020
What Is the Cost of Carrying Pets With Qatar Airways?
The travel cost for pets depends upon the destination, transportation medium, and country of travel. Qatar Airways flying with pets charges depends on their size, kind of travel medium, and weight.
Qatar Airways In-Cabin Pet Travel Cost
The in-cabin pet travel cost is applicable on Falcon. Make sure to refer to the section "Pet Fee" to find more details on the pet travel cost as per the fare ticket conditions or contact the Airways for any queries.
| | |
| --- | --- |
| Type of Pet | Estimated Costs |
| Falcon | 115 USD to 630 USD |
| Service Dog | Free (Applicable to certain routes) |
Qatar Airways Pet Travel Cost As Checked Baggage
Qatar Airways follows the following guidelines for pets as checked baggage. Refer to the website "Excess Baggage" page to find more details on the pet travel cost based on routes.
| | | |
| --- | --- | --- |
| Size | Weight/ Size Dimensions | Baggage Cost for Routes |
| Medium | Up to 70 lbs (32 kg) | To/From Qatar: 200 USDAll other routes: 350 USD |
| Large | Between 70 lbs (32 kg) and 165 lbs (75 kg) | To/From Qatar: 300 USD All other routes: 450 USD |
| Other cases/ Larger animals | Total weight: greater than 165 lbs (75 kg)Total dimensions: larger than 118 inches (300 cm) | Flown as Air Cargo |
 It is recommended to check the Qatar Airways website or contact their customer service for more information regarding their pet policy.
Frequently Asked Questions
Does Qatar Airways allow pets in the cabin?
Yes, Qatar Airways pet in cabin policy states – Falcons and Service dogs are allowed in the cabin.
Are pets allowed on Qatar Airways?
Yes, Qatar airways allow domesticated animals like cats, birds, and dogs on the same flight or separate one.
How many pets can I travel with on Qatar Airways?
There are no restrictions on the number of animals with the Airways if they meet space and weight limitations.
Can my service dog travel in the cabin with me?
Qatar airways allow service dogs in the passenger cabin to assist flyers with disabilities.
Will Qatar Airways provide food and water for my pet?
The passengers must offer adequate food and water for the pet throughout the journey and ensure that the quantity is enough.
What kind of travel container should I have for my pet?
The travel container must be of appropriate size and design with ventilation holes to avoid escape and suffocation.
Are there any limitations on the health, breed, or age of pets on Qatar Airways?
Qatar Airways pet reservation offers a list of banned cats and dogs, age, and health conditions on the website.
How much does it cost to travel with a pet on Qatar Airways?
The pet travel cost differs for pets as normal baggage or excess baggage. Check the "Pet Fee" section for more information on the fares.
Is there a way to access the pet during the journey on Qatar Airways?
No, the passengers are not allowed to see or meet their pets during the journey.
How does a passenger transport pets or livestock?
The flight allows domesticated animals with the passenger on the same journey or through Air Cargo.
Other Qatar Airways Related Pages