Orlando International Airport (MCO) houses several carriers including Frontier Airlines. The airport operates both domestic and international flights of the carrier. The Airport has three terminals, due to which it is important to know what terminal is Frontier at MCO in case you have a reservation with this carrier. This will enable you to avoid confusion at the last minute and help you get your flight on time. Further, knowing about the various services offered at the terminal can help you improve the airport experience. Therefore, having complete information about Frontier Terminal at MCO would be quite beneficial.
The sections given below highlight the different aspects of this terminal like parking, general facilities, lounges, check-in, and many more.
General Information about MCO Frontier Terminal
Out of the three terminals, A B, and C, Frontier uses Terminal A at this airport. This Frontier Terminal MCO has the Gates from 1-29 and 70-99. Other information about this terminal includes:
What Terminal is Frontier at MCO Airport?
The official Frontier Terminal at MCO is Terminal A. It operates all proceedings related to Frontier flights from check-in to baggage collection. Additionally, this terminal has other services like shopping and dining as well.
Frontier MCO Terminal Map
This map gives complete digital details of Terminal A, that is, the official Frontier Terminal at MCO. The exact location of the terminal gates and the in-terminal check-in centers and retail stores are highlighted on this map. It can be used to get directions from Terminal A to the other terminals as well. Hence, this map provides a complete picture of the Frontier Terminal.
The following is the official map of Frontier at Orlando Airport. The map can be found on the official site of the carrier as well.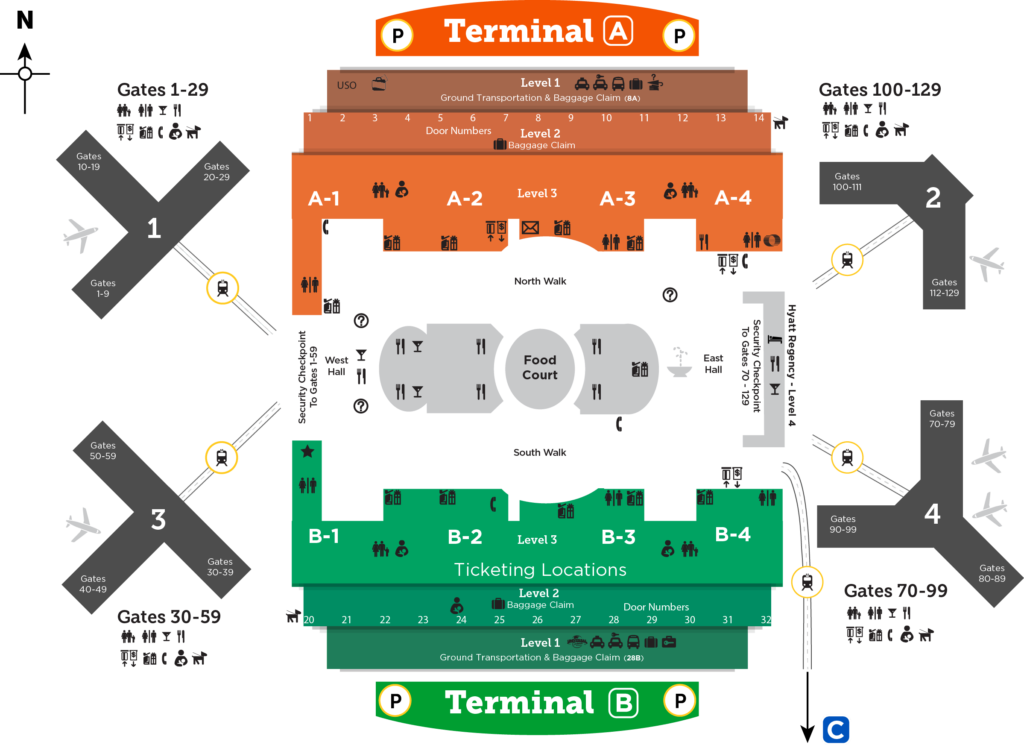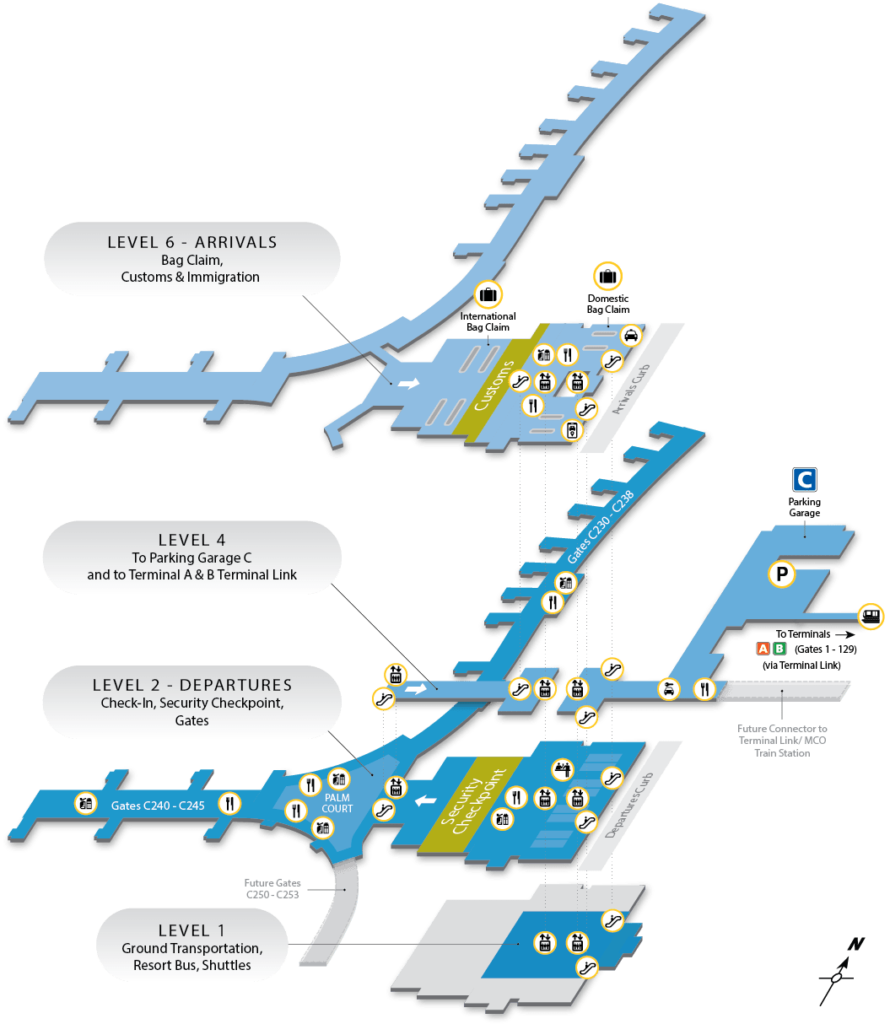 What is the Frontier Airlines Terminal at MCO for international arrivals/departures?
What terminal is Frontier at MCO Arrivals?
Terminal A is the designated official for Orlando Airport Frontier Terminal arrivals. For international arrivals, Gate 70=99 of the terminal is used. The baggage claim area, where arriving passengers have their luggage, is located at Level 2. There are a total of 16 carousels and you will be informed, upon arrival, about the carousel designated for Frontier. Ride-share services and pet relief areas can also be accessed at the arrivals level of this terminal. 
What terminal is Frontier at MCO departures?
Frontier MCO Departures take place from Terminal A. These include both domestic and international departures. For ticketing, you will have to head to Gate A2 at this terminal. All the proceedings related to departures like check-in and security screening will take place from Level 3 of the departure terminal. Here, you can avail a variety of services like access to shopping centers, retail stores, restaurants, and waiting areas.
What is the Frontier MCO Terminal Phone Number?
To reach out to the agents of this carrier at the airport in case of any queries or inconveniences, you can use the official Frontier MCO phone number. The agents will provide you with assistance on different issues like flight change, cancellations, baggage, lounge access traveling with minors or infants.
| | |
| --- | --- |
| General Phone Number | 801 401 9000 |
| Whatsapp Phone Number | 720 902 3969 |
| Filing Reports or Claims | Fill out the forms at the official site |
If you are unable to find the Frontier help desk, you can call Frontier Airlines customer service agent at +1-877-799-1495 for assistance.
What are the ways to check the flight Status Of Frontier Airlines at Orlando Airport?
Frontier Airlines flight status can be checked on the Airline's website or app or at Orlando Airport. To do this, simply enter your flight number or departure/arrival airport and date.
You can also check the flight status at the Frontier Airlines ticket counter in Terminal A at Orlando International Airport.
Here are some of the possible flight statuses:
On-time: The flight is scheduled to depart and arrive on time.
Delayed: The flight is delayed and will not depart or arrive on time.
Cancelled: The flight has been canceled.
Diverted: The flight has been diverted to another airport.
How much is the Orlando Airport Frontier Terminal Parking?
Passengers flying with this carrier can use the parking facility at Parking Garage A which is located within walking distance from Frontier Airlines Orlando Terminal. This garage offers both short and long-term parking options. The fee charged for parking depends of duration, as follows: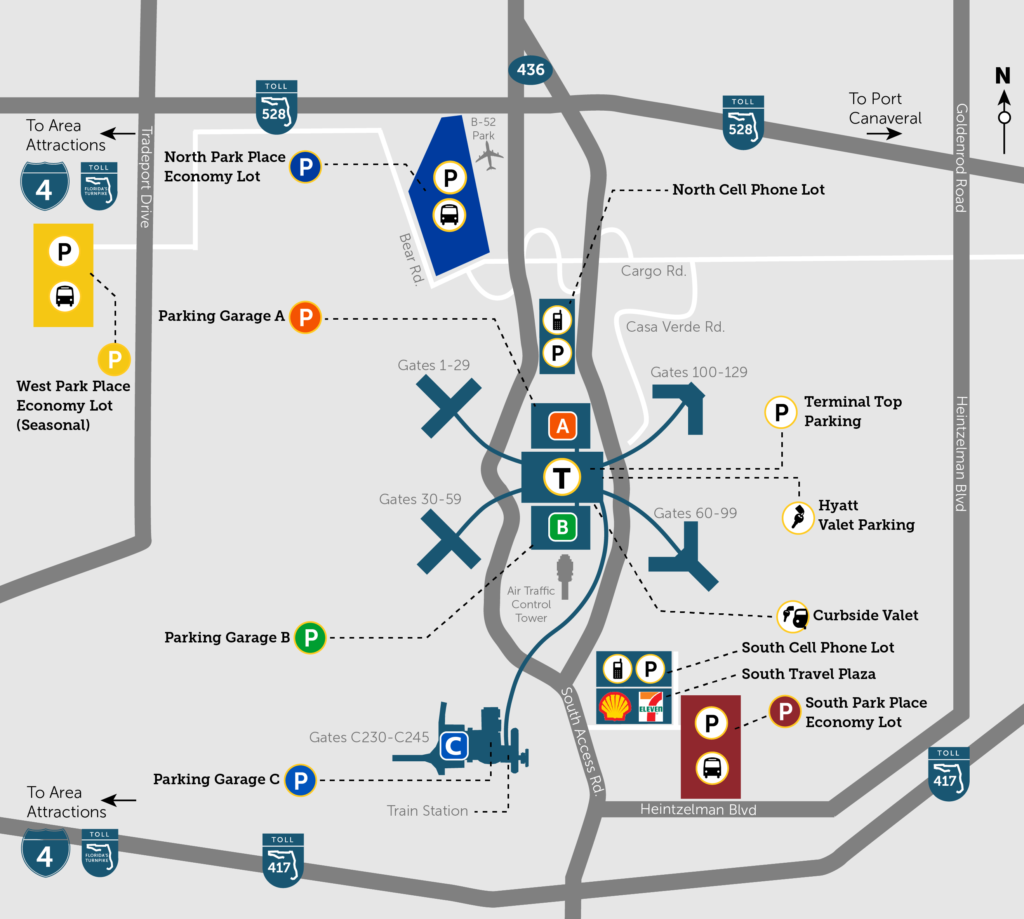 | | |
| --- | --- |
| Duration | Fee Charged |
| First 20 minutes | Free |
| 21 – 30 minutes | USD 2 |
| Each additional 15 minutes | USD 1 |
| 24 hours | USD 24 |
Where does Frontier Airlines Fly from MCO?
This carrier flies to several domestic and international destinations from MCO Airport. You can book these flights in advance using the official site of the airline. Some of the major destinations flown to by Frontier and their airports are given below:
Frontier Airlines Fly Domesticly from MCO
Frontier Airlines Fly Internationally from MCO
Montego Bay Sangster International Airport (MBJ)
Punta Cana International Airport (PUJ)
Frontier Airlines is constantly adding new destinations, so please check the Frontier Airlines website for the most up-to-date information.
What are the services offered at Frontier Airlines MCO Terminal?
To make flying quick and simple, the Frontier Airlines MCO terminal offers a number of different services ranging from check-in to pet relief services. Some of the main facilities offered at this terminal include the following:
Check-In: It is mandatory to complete the check-in process before departure. Frontier check-in can be done at Level 3 of Terminal A. There is no curbside check-in available at this terminal.
Baggage: Baggage can be collected and deposited at the terminal upon arrival and before departure. You can carry one personal item, one cabin bag, and one checked bag up to 40 lbs. The Frontier Airlines baggage fee should be determined using the "baggage fee calculator" on the official site.
Flight Cancellation: Passengers are allowed to cancel Frontier flight tickets at MCO. For this, you can visit the ticketing center located near A-2 of the Frontier Terminal at MCO. You will be asked to submit your flight details and personal information.
Booking Change: At the same ticketing center, passengers can also request Frontier Flight changes. You might be asked to pay a certain fee based on the time of request.
Security Screening: In order to ensure the safe travel of all passengers, the terminal provides security checkpoints. All the Gates from 1-59 have security screening centers for Frontier.
TSA Pre-check– Pre-check is a service that enables you to skip long queues during the screening process. This service can be availed by registered passengers. The Precheck centers for Frontier flights will be open from 4:00 a.m. to 8:30 p.m.
Lounges: Although the airport has different lounges, there is no specific lounge for Frontier Airlines. However, passengers can get access to waiting rooms or relaxation centers.
Rideshare Services: Taxi services like Uber, Wingz, and Lyft can be booked at the second level of the Frontier Terminal to get to the city center from the airport. The fee for these services will be provided at the airport.
Baggage Wrapping – Since it might be difficult for first-time filers to pack their bags within the given weight limits, baggage wrapping services are also provided at the airport before departure.
Lost and Found: Passengers who have lost their items at the airport can report them at the Lost and Found office at MCO Airport. The office is located on Level 1 of Frontier Terminal A and is open between the hours of 7:00 a.m. and 7:30 p.m.
Some of the other facilities and amenities offered at this Fronter Terminal of MCO Airport include:
Free Wi-Fi
Pet Relief Areas
Shopping Centers
Dining Areas
Ground Transportation
Rental Cars
In-terminal navigation
Hotels
Rental Cars
ATM machines
Aquariums and Universal Stores
The MCO Frontier Terminal ensures to offer all the required services to the fliers. It enables all passengers to get access to these facilities via the pre-registration option. The on-ground agents also provide additional assistance. Hence, traveling with Fronter via MCO is made simple and hassle-free.
Frequently Asked Questions (FAQs)
What Terminal is Frontier Airlines at Orlando International Airport?
Terminal A is the official Orlando Frontier Terminal.
What Terminal does Frontier fly out of in Orlando?
Frontier flies out of Terminal A at Orlando International Airport.
Where is the baggage claim at Frontier Terminal Orlando Airport?
Frontier Baggage Claim MCO Airport is located on the second level of Terminal A.
What is the Orlando Airport lost and found phone number?
The lost and found phone number of Orlando Airport is 407 – 825- 8463.
What terminal is used for Frontier Arrivals MCO?
Terminal A at the MCO Airport is used for Frontier's domestic and international arrivals.
What gate is Frontier at MCO?
Frontier uses Gates 1-29 at Orlando Airport, Terminal A.
Is there a TSA PreCheck at Frontier Terminal in Orlando?
Yes, the Frontier Terminal in Orlando has the TSA pre-check facility.
What are the facilities at Frontier Orlando Terminal?
Check-in, baggage collection, deposit, dining, and shopping are the services offered at Frontier Terminal Orlando Airport.
What terminal is Frontier at MCO?
Frontier uses Terminal A for Arrival and Departures.