Established around 96 years ago, San Francisco International Airport is the largest public airport in San Mateo County. The airport has four different terminals with different purposes which supervise a variety of airlines. Based on the airline you are flying with, your terminal might differ. Therefore, flying with United requires knowledge about SFO United Terminal. This can include facets like the location of the check-in stations, boarding gates, and lounges. It can be further beneficial to the parking spots at the terminal and the fee charged. Comprehension of these aspects can go a long way in ensuring an undisturbed airport experience.
All of these details are explained below in the given sections.
General Information About SFO United Terminal
As the airport has 4 terminals – 1,2,3 and another for international operations, the official United Terminal SFO can vary based on your end destination. An overview of the airport is given in the following table:
| | |
| --- | --- |
| Official Website | flysfo.com |
| Airport Location | San Mateo County, California, United States |
| Airport Address | San Francisco, CA 94128, USA |
| Airport Name | San Francisco International Airport |
| Airport For | United Airlines Alaska Airlines |
| SFO United Terminal | Terminal 3 – Domestic Operations Terminal G – International Operations |
What Terminal is United at SFO?
To help passengers maintain uniformity and avoid overcrowding, the SFO domestic terminal 3 varies from the International United Terminal G.
United SFO Terminal Map
The official SFO Map United is developed as a draft that sketches the airport terminals' online layout. By referring to this map, travelers will be able to understand how the terminals are designed fully. Hence, you will be able to reach your designated boarding gates and baggage claim areas easily. Additionally, the terminal map acts as a directory for providing navigation as well. 
Following is the terminal map of United Airlines at SFO Airport: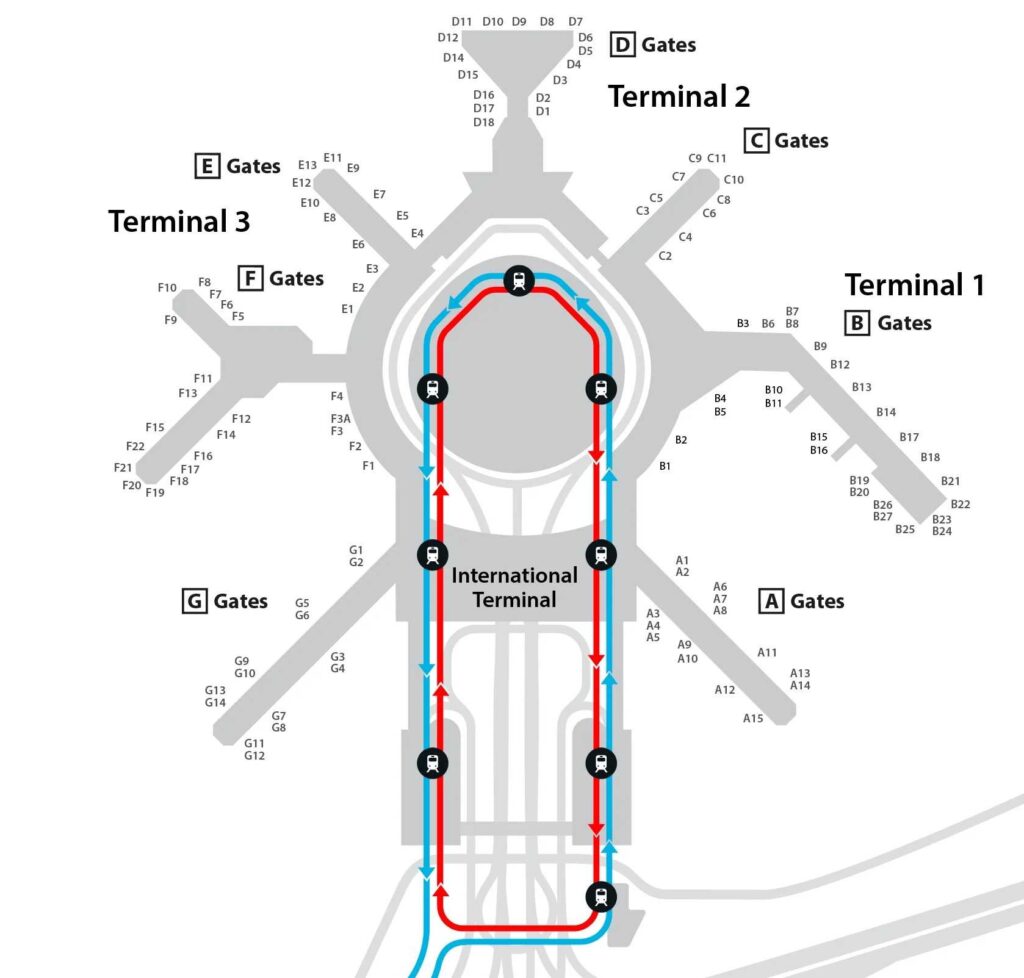 SFO United Arrivals Terminal
Based on your flight itinerary, the terminal for arrivals differs. This is because international United Arrivals SFO are designated to transpire from Terminal G while domestic flights usually arrive at Terminal 3. The post-arrival services offered at both these terminals are similar in terms of luggage collection, waiting rooms, and taxi rental hires.
United Departures SFO Terminal
To enable domestic departures, United SFO Terminal 3 is used. Terminal G handles departures related to international flights. Policies related to departures include mandatory check-in and security screening. Also, if you have a connecting flight with SFO as a stopover, you can use the United lounges and clubs at the departure terminal for both international and domestic flights. 
United SFO Terminal Phone Number
Any kind of inquiry specific to the United Terminal at SFO can be resolved by connecting with the airline agents. To reach these authorities, you can refer to the contact details given below:
| | |
| --- | --- |
| Purpose of Calling | Contact Details |
| Queries regarding domestic flights | 800 864 8331 |
| Queries regarding international flights | 800 538 2929 |
| Baggage Issues | 1 800 221 6903 |
| Frequent Flyer Issues | 1-800-421-4655 |
United Airlines SFO Terminal Parking
At the San Francisco Airport, there is one parking lot that is common to all terminals including the UA SFO Terminal. Passengers from all the airlines will be able to use this lot. Following are the types of parking available at the airport:
Domestic Parking
International Parking
Long-Term Parking
ParkFAST
ParkVALET
Based on the duration, the payment to be made for parking can be as follows:
| | | | | |
| --- | --- | --- | --- | --- |
| Duration | Long-Term Parking | Domestic Parking | International Parking | ParkFAST Parking |
| 15 minutes | USD 2 | USD 2 | USD 2 | USD 2 |
| 24 hours | USD 25 | USD 36 | USD 36 | USD 40 |
Flights from SFO United Airlines Terminal
The United Airlines San Francisco Terminal makes it possible for various flights to operate on a daily basis. Some of these flights can be of connecting itineraries as well. Hence, this terminal handles quite a large amount of freight.
You can refer to the table below to know some of the busiest routes from the SFO United Terminal:
Services Offered at United Terminal SFO Airport
Both the United International/Domestic Terminal SFO offer additional services apart from check-in and baggage collection. These facilities ensure convenience for the fliers traveling with United. However, to be able to fully enjoy these amenities, passengers will have to follow certain guidelines as well.
Check-In
United Airlines check-in can be done at either Terminal 3 or G as per your ticket. While checking in, you will have to see that the details on your passport match the details on your government-issued identity proof. Otherwise, you might not be issued a boarding pass. 
Baggage
Your United Airlines baggage should be handed over to the airport agents. These bags will be tagged and deposited and can be collected at the arrival airport. The luggage allowance includes 23 kg of checked bags, one cabin bag, and one personal item. 
Flight Cancellation
This airline has a United cancellation policy according to which you will be able to cancel your bookings and claim a refund. If the airline itself revokes your flight, you will be offered compensation. 
Flight Change
Modifications to already existing reservations can be made under the United flight change policy. However, connect with the airline agents in advance to know if your booking is eligible for changes. 
Security Screening:
In regard to United Airlines' safety, all the passengers will have to undergo the security screening procedure. The agents will check your carry-on bags to make sure that you are not carrying any harmful items. The entire process can take about 10-15 minutes. 
TSA Pre-Check
The departure level of the United Terminal has the TSA Pre-Check facility. Passengers who have enrolled for this service will be given priority during the screening procedure, hence saving time.
Lounges
There are four United Airlines lounges at the SFO Airport, two of which are located in the International Terminal G and two in the Domestic Terminal 3. You can refer to the official site of the carrier to know the timings of these lounges and the fee charged.
Rideshare Services
If you want to get to the city center from the SFO Airport, the rideshare services can be a viable option. You can book these services upon arriving at the airport and the price can be negotiated based on the distance that is to be covered. 
Lost and Found
If you have left behind anything at the airport, you will have to file a report at the official site of United Airlines. You can also call the agents at 1 866 289 9673 to report your item. In case your item is retrieved, you will be called to the airport to claim it back. You can keep in touch with the agents regarding the status of your lost items. 
The following are some more services provided at the airport:
Wi-Fi
Dining Centres
Shopping
ATMs
Animal Relief Areas
Charging Points
Rental Services
The SFO United Terminal manages a large inflow of passengers and, hence, follows a certain order of proceedings. It not only provides a wide range of facilities but also ensures that these facilities are accessible to all fliers by charging economical prices. Hence, choosing to fly with United via SFO can be a plausible option. 
Frequently Asked Questions (FAQs)
What is the official United Airlines San Francisco Terminal?
United at San Frnascio operates from two terminals, that is, Terminal 3 and Terminal G. 
What is the United SFO terminal for domestic flights?
For domestic freight of United Airlines at San Francisco Airport, Terminal 3 is used.
What is the SFO International Terminal United?
All the international flights of United at SFO Airport are managed at Terminal G.
Is there parking at the United Airlines Terminal at SFO?
Domestic and International parking garages common to all the terminals are offered at the SFO Airport.
How much is parking at United Airlines San Francisco Airport Terminal?
Parking fees at this airport can be up to USD 36 based on the time for which the spot is used.
Is there a lounge at the United Airlines departure Terminal at SFO Airport?
Yes, there are a total of four lounges of United at the San Francisco Airport.
What are the services offered at the United Airlines Terminal San Francisco Airport?
Services like pet relief areas, ATMs, charging stations, wi-fi, check-in stations, lounges, waiting rooms, etc are offered at the United SFO Terminal.
Which terminal is United at SFO for international arrivals?
For international arrivals of United flights, Terminal G of the airport is used.