Luxembourg Airport is the main international airport in Luxembourg, also known as Luxembourg Findel Airport. The IATA code for the Luxembourg airport is LUX. It serves as a hub for various airlines and offers a range of facilities to make your travel experience seamless. Whether you are a frequent traveler or a first-time visitor. In this comprehensive guide, we will cover everything you need to know about Luxembourg Airport Lux from airlines operating there to parking facilities, Terminals, lounges, security wait times, and more.
Here are some of the things that make Airport Luxembourg unique:
LUX Airport is the only international airport in Luxembourg.
It is located in a strategic location, making it a convenient gateway to Europe.
Luxembourg Airport has a focus on service and quality, with a wide range of amenities and facilities.
It is a small and easy-to-navigate airport, making it a good choice for first-time travelers.
It has a boutique feel, with a warm and welcoming atmosphere.
General Information About the Luxembourg Airport:
The following table is an overview of LUX Airport indicated below:
| | |
| --- | --- |
| Airport | Luxembourg Airport |
| Airport Type | Public |
| Operator | Société de l'aéroport de Luxembourg S.A. lux-Airport |
| Serves | Luxembourg |
| Hub for | CargoluxChina Airlines CargoLuxairLuxembourg Air RescueQatar Airways Cargo |
| Luxembourg Airport Code | ELLX, LUX |
| Luxembourg Airport Terminals | Terminal A and B |
| LUX Airport Coordinates | 49°37′24″N 006°12′16″E |
| LUX Airport Runways | 06/24 4,002 13,130 Asphalt |
| Luxembourg airport address | 4, rue de Trèves, B.P. 635 L-2016 Luxembourg |
| Distance from the city center | approximately 6 kilometers |
| Official Website | https://www.lux-airport.lu/ |
| Official Phone Number | 352 24 640 |
| Location | Sandweiler |
| Elevation | 1,234 ft / 376 m |
How many terminals does a Luxembourg Airport have?
Luxembourg Airport has two terminals: The two terminals are connected by a covered walkway.
Luxembourg Terminal A
Terminal A is the larger terminal built in 1975. This Terminal can handle up to 3 million passengers per year. Terminal A has four floors, with check-in desks, baggage claim, boarding gate, and other facilities on the lower levels. The upper levels of Terminal A have restaurants, shops, and other amenities.
Luxembourg Terminal B
Terminal B opened in 2004 in Luxembourg. This terminal is smaller than Terminal A and It is used for regional flights and flights within the Schengen area. Terminal B has two floors, with check-in desks and boarding gates on the lower level and restaurants and shops on the upper level.
LUX Airport Code
Every airport is given a specific code to provide for easy recognition. Luxembourg Airport also has a different code. The IATA Luxembourg Airport Code is LUX while the Luxembourg Airport ICAO Code is ELLX.
| | |
| --- | --- |
| Luxembourg IATA Code | LUX |
| Luxembourg Airport ICAO | ELLX |
| FAA CODE | N/A |
| WORLD AREA CODE | 454 |
| COUNTRY CODE | LUX |
| ZIP CODE | 2632 |
| IATA METROPOLITAN CODE | LUX |
Luxembourg Airport Map
Luxembourg Airport is a worldly-wise hub, where you can indulge in fine dining, shop till you drop, and recharge before your flight. Explore the interactive map below to learn more about the airport's many amenities.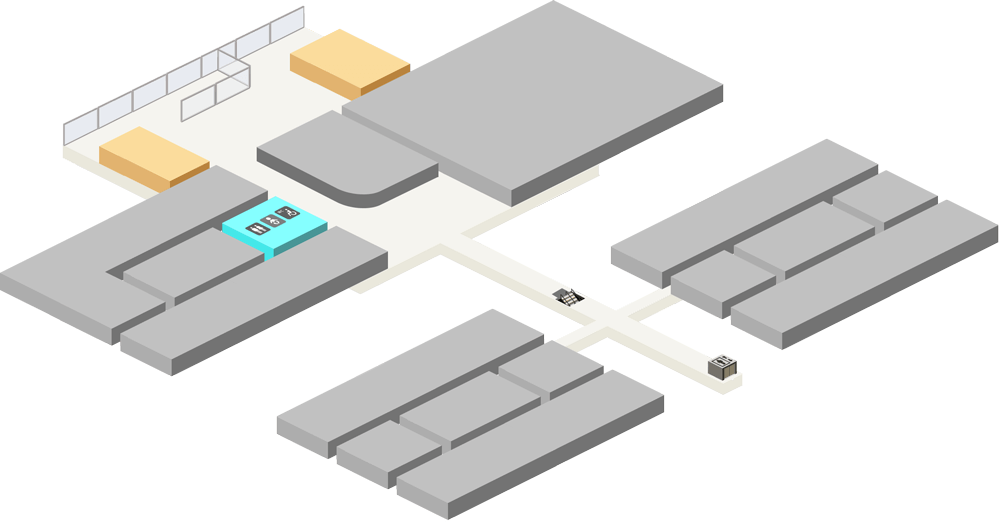 Runways at Luxembourg Airport
Lux Airport has a single runway, designated Runway 06/24, which is 4,000m long and 60m wide.
Airports near Luxembourg (LUX)
Some of the closest airports to Luxembourg are:
Bitburg Airport (BBJ) – 68 km
Metz-Frescaty Air Base (MZM) – 69 km
Spangdahlem Air Base (SPM) – 74 km
Metz-Nancy-Lorraine Airport (ETZ) – 90 km
Saarbrücken Airport (SCN) – 111 km
Frankfurt-Hahn Airport (HHN) – 113 km
Airlines Operating from Luxembourg Airport
These are the following airlines operating at Luxembourg Airport:
Air France
British Airways
easyJet
Lufthansa
Ryanair
Swiss International Air Lines
TAP Air Portugal
Wizz Air
How do I get from Luxembourg Airport to the City Center?
There are several ways to connect to and from Luxembourg Airport.
By car: The airport is easily accessible by car from Luxembourg City and other major cities in Luxembourg. There is a large car park at the airport, with over 2,000 spaces.
By bus: There are several bus lines that connect the airport to Luxembourg City and other destinations in Luxembourg. The bus stop is located in front of Terminal A.
By train: The airport is also served by a train station, which is located in the basement of Terminal A. The train connects the airport to Luxembourg City and other cities in Luxembourg.
By taxi: Taxis are available at the airport taxi rank, which is located in front of Terminal A.
Luxembourg Airport Parking Facilities & Options
There are several parking facilities available at Luxembourg Airport.
Holiday Parking
Open Air
Holiday
Economy
Holiday +
Premium parking
Smart & Easy parking
Walking Distance to the terminal- 10 minutes
Budget parking
Holiday Parking with convenience
Walking Distance
5 minutes
Walking Distance
5 minutes
Walking Distance
2 minutes
Terminal shuttle
Walking Distance
2 minutes
For Minimum 24 hours
For Minimum
24 hours
For Minimum
4 Days
For Minimum 3 Days
For Minimum
24 hours
Parking A, B – indoor
Parking F – outdoor
Parking E – outdoor
Parking M – outdoor
Parking A, B Level -4 – indoor
Luxembourg Airport Lounges
There are two airport lounges at Luxembourg Airport:
The Lounge is located in Luxembourg Findel Intl, Terminal A, Airside – behind the Security Screening Point. This lounge is for passengers of Luxair flights and Star Alliance members. This Lounge Opening Hours at 04:00 – 21:00 Daily.
Luxembourg Airport Security Wait Times
The security wait times at Luxembourg Airport vary depending on the time of day and the day of the week. However, the average security wait time is around 15 minutes.
Facilities and Amenities at Luxembourg Airport
Luxembourg Airport has a variety of facilities and amenities available to passengers, including:
Restaurants and bars
Restaurant at Luxembourg Airport
Shops
Currency exchange
Duty-free shopping
Wi-Fi
Baby changing facilities
Medical facilities
Lost and found
Luxembourg Airport is a passenger-first airport that puts your needs first. From check-in to boarding, we're here to make your journey as smooth and seamless as possible. Here's what you need to know to get started.
Frequently Asked Questions (FAQs)
Q1. What airport does Lux stand for?
Ans. LUX stands for Luxembourg Airport.
Q2. Does Luxembourg have an airport?
Ans. Yes, Luxembourg Airport (LUX) is the only International Airport in Luxembourg.
Q3. What airport does Lux stand for?
Ans. LUX stands for Luxembourg Airport.
Q4. Which airlines fly out of Luxembourg?
Ans. The following airline companies flying from LUX are Air France, British Airways, easyJet, Lufthansa, Ryanair, Swiss International Airlines, TAP Air Portugal, and Wizz Air.
Q5. How to get from Luxembourg airport to the city and train station?
Ans. The Eurobus 16 is a frequent shuttle that runs between Luxembourg Airport, the city center, and the central railway station, every 10 to 15 minutes.
Q6. Does the LUX Airport have a special desk for people with disabilities?
Ans. Yes, Luxembourg Findel Airport has a help desk for people with special needs. If you are traveling with one or you are physically challenged, then you can go to the agent or executive at the airport or simply call the customer service number for professional help and proper assistance.
Q7. Is Luxembourg Airport open 24 hours a day?
Ans. Yes. The LUX Airport operates 24 hours a day and 7 days a week. In case you have an early flight and you want to be there at night time, you can do it easily because the airport has a helpdesk working day and night for the passengers.
Q8. Is there any train station near LUX Airport?
Ans. No. There is no nearby train station to Luxembourg Airport (LUX Airport Code). To reach the nearest station, you will have to take the help of the bus service available. Take bus number 16 from the entrance of LUX Airport to the main rail station – Gare Centrale. In case of any confusion or doubt, go to the LUX help desk for assistance.
Q9. Is there any shop or restaurant at Luxembourg Airport?
Ans. Yes. You will get numerous options at LUX. You can enjoy some yummy quick bites at Oberweis Shop, Sandwiches & Cie, Starbucks, etc. Apart from these, there is a duty-free shop inside the airport. If you are a bookworm, then you can treat yourself at the Press & Books Shop.
Q10. Is there any stay option near LUX Airport?
Ans. Yes. You can easily find plenty of good stay options around LUX Airport (Luxembourg Findel Airport code). However, it is necessary to do adequate online research beforehand. If you are unable to find a suitable option, then you can reach out to the LUX Helpdesk for more information and further assistance.
Q11. What are the busiest routes of LUX Airport?
Ans. As per the statistics of Luxembourg Findel Airport (LUX Airport Code), the busiest routes from this airport include the Porto Airport (Portugal), Lisbon Airport (Portugal), Munich Airport (Germany), Frankfurt Airport (Germany), and Amsterdam Airport (Netherlands).